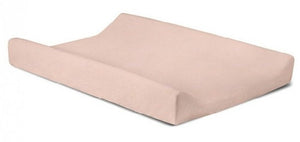 This wonderfully beautiful changing soft cover is made of extremely comfortable cotton, which makes it soft against the baby's skin and also very easy to clean. Furthermore, this changing pad cover not only ensures that your little one will lie comfortably, but it also ensures that your changing pad is protected, so that you can keep it like new for longer.
The beautiful extra thick cotton cover fits precisely around the changing pad. A practical basic in the babyroom. The fabric is soft and stretchy. The cover closes all around and stays in place.
The changing mat is quite cold without a cover and plastic is not very comfortable. A loose towel will slide off and not cover the edges. A standard hydrophilic cloth is too small and too thin to properly cover the changing pad.

This changing pad cover stays firmly in place like a fitted sheet, you wash it out in no time and it makes your baby (and you) feel comfortable.

Size
With a size of 50x70 cm, this cover fits the Jollein changing pad and any standard size changing pad.

Material
100% cotton.

Wash
You can of course wash the cover. Washing instructions are on the care label.